Ten Album Covers That Rock My World
by Tommy Burton
I was shopping at one of my favorite record shops over the weekend and got into a discussion with the shop owner about record covers. I know we are not supposed to judge a book by its cover, but I feel that we can judge a record by its cover. I have had similar discussions with other friends on these matters and we all seem to agree: record covers are important. Now, I know that there are many great albums with lousy covers. On the same token, there are some lousy records with great covers. So, the equation doesn't always equal. But the ones I talk about here are ten sleeves that will always hold some fascination for me. Some date back to my father's own record collection, others from my own childhood. I alluded to a couple of these in an earlier article for We Like Media. Anyway, without further ado, here are ten record covers that hold a special place in my heart. Some are classic, others not so. Some obvious, others may not do a thing for you. I like them all the same. Here they are: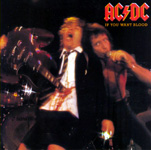 1. AC/DC
If You Want Blood

I stared endlessly at this cover when I was a kid at the mall in the record store. It scared me, yet intrigued me all the same. The back cover, with Angus lying on his stomach and the guitar neck sticking out of his back, was the clincher. It doesn't hurt that the record rocks like a brick.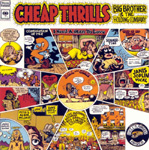 2. Big Brother and The Holding Company
Cheap Thrills

My dad had this record and I would gaze at the colorful artwork by Robert Crumb. It looked like a freaky comic. I had no idea who R. Crumb was or Janis Joplin, for that matter. It looked sexy, cool, and very detailed.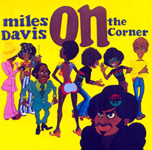 3. Miles Davis
On The Corner

A friend of mine found a copy of this album on a trip and bought it. Just looking at the cover, I knew that this music would be nothing but a slab of pure funk. It is and more. It really was a mark of the times and it rings true.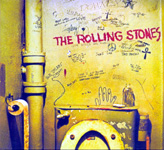 4. The Rolling Stones
Beggar's Banquet

A record with a graffiti covered bathroom wall. A dirty roll of toilet paper. A nasty toilet. This record jacket truly says it all concerning its contents.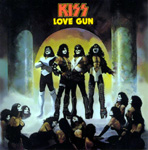 5. Kiss
Love Gun

This is the very first LP I remember owning. I would look at this cover while listening to the album. It looks something like a harem of Kiss girls with the band holding dominion over them. They could be about to, or just finished, playing for them sending them into a hypnotized state. Truly the look of rock gods.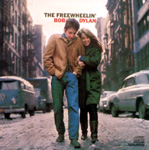 6. Bob Dylan
The Freewheelin' Bob Dylan

I wasn't familiar with Dylan or his albums, but I kept picking this up and wondering what the hell was going on inside of this LP. This girl on Bob's shoulders looks as though Bob could do no harm and all is right with the world. All of this on a wintry day.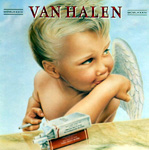 7. Van Halen
1984

This jacket struck me as a youngster. The smoking angel baby. The smirk on the kid's face kind of gives it away.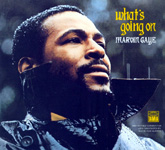 8. Marvin Gaye
What's Going On

Marvin is standing out in the rain with a leather trenchcoat on. This is some serious stuff.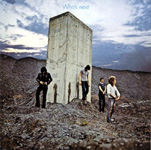 9. The Who
Who's Next

Four English dudes have just finished pissing on a huge monolith. It's tasteless, trashy, raunchy, and perfect. The 2001 of rock music.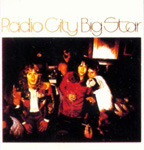 10. Big Star
Radio City

There's something about Alex Chilton leaning over to Andy Hummel and pointing at the camera. It reeks of rock. And what the hell is that guy with the sideburns doing in the background?