The Magnetic Fields' Distortion Tour
by Liza Marshall
Austin, Texas
The Paramount Theatre
October 14, 2008
Three words:
Uh May Zing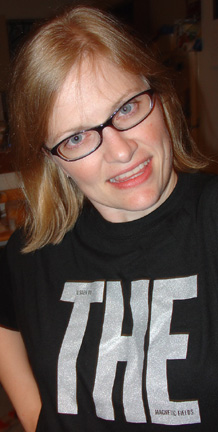 I'm not one to wax poetic about, well, anything, but my love, adoration, and appreciation for The Magnetic Fields runneth over.
The opening act -- Michael Hearst -- was short and sweet. He's a pretty funny guy who read funny little stories, played funny short songs, and showed funny little pictures (via slideshow) that he'd drawn.
Stephin was, as always, sarcastically humorous, as evidenced by his opening words: "Are you ready to rock?" <<Crowd goes wild>> "Then go somewhere else."
Claudia was delightful and funny, charming the crowd with funny stories and comments about going to see the bats on the Congress Bridge ("maybe next time"), Stephin picking up a new instrument from Fiddler's Green Music Shop that day, etc.
Sam and John are men of few words and let their amazing skills on the cello and guitar speak for them. I'm always in awe of those who have mastered an instrument. This goes for Claudia (piano) and Stephin (too many to mention) as well.
Shirley Simms, who provided vocals on Distortion (and 69 Love Songs), wowed me with her voice, sounding just as good (if not better) live.
The Paramount Theatre was a great venue for the show, and my mezzanine level seat provided me with a great view of the stage despite the uber-tall girls sitting in front of me.
There were clearly some new fans of the band, such as the girl sitting next to me who giggled and guffawed at many of the lyrics -- clearly hearing them for the first time. Overall the audience was great; there was one fool in the audience who insisted on shouting out "Lonely Highway… Lonely Highway, please…" causing Stephin to mutter "There are crickets in the audience" (or something to that effect) and Claudia to finally say, "No requests, please, it's all written down right here" when he persisted.
I was very pleased at the spectrum of songs played; many albums were represented. Their song list was as follows: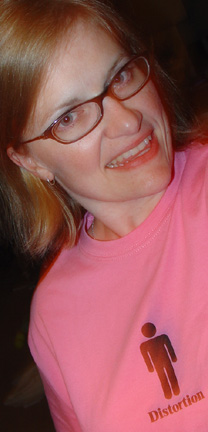 1. When I'm Out of Town (The 6ths – Wasps' Nest)
2. No One Will Ever Love You (69 Love Songs Vol. 2)
3. California Girls (Distortion)
4. Walking My Gargoyle (The Gothic Archies – The Tragic Treasury)
5. The Nun's Litany (Distortion)
6. All My Little Words (69 Love Songs Vol. 1)
7. Old Fools (Distortion)
8. I Wish I Had an Evil Twin (i)
9. Dreams Anymore (Pieces of April Soundtrack)
10. This Little Ukulele (Eban and Charley Soundtrack)
11. All Dressed Up in Dreams (The 6ths – Wasps' Nests)
12. Xavier Says (Distortion)
13. Zombie Boy (Distortion)
14. Papa Was a Rodeo (69 Love Songs Vol. 2)
15. Take Ecstasy With Me (Holiday)
16. Courtesans (Distortion)
17. Crows (The Gothic Archies – The Tragic Treasury)
18. The Tiny Goat (The Gothic Archies – The New Despair EP)
19. Too Drunk to Dream (Distortion)
20. The Book of Love (69 Love Songs Vol. 1)
21. Give Me Back My Dreams (The 6ths – Hyacinths and Thistles)
22. Drive On, Driver (Distortion)
23. What a Fucking Lovely Day! (The Orphan of Zhao Musical)
24. Yeah! Oh, Yeah! (69 Love Songs Vol. 3)
25. It's Only Time (i)
Encore
26. Three Way (Distortion)
27. As You Turn to Go (The 6ths – Hyacinths and Thistles)
28. Grand Canyon (69 Love Songs Vol. 2)
During the show, I was torn between wanting to close my eyes and concentrate only on the music and wanting to just see the band, live and in person, play and sing. (I let my eyes close briefly a few times.)
Before the show started, I stopped by the merchandise table and bought a "Listen to The Magnetic Fields" T-shirt and a couple of buttons. By the time the show was over and I strolled by the table again, I was compelled to buy the "Distortion" T-shirt and the limited edition 3-D Magnetic Fields print (and glasses) created for this tour. Can you really ever have too much Magnetic Fields paraphernalia?
I hung around for a bit in front of the theatre and walked around through the alley to check out the rear exit to see if I'd be able to catch anyone for an autograph (I brought my Distortion CD and a couple of Sharpies -- I like to be prepared), but had no luck. I figured they'd already bolted or were going to hang around until everyone left, and although I got Claudia and Sam's autographs on my 69 Love Songs booklet back in 2000, I wasn't convinced they'd be in an autograph-giving mood.
So, after a delightfully amazing show, fully satisfied with what had been presented to me, and disappointed that it had to end, I headed home, excited to put the evening's events down on paper.
As I walked from my car to my building I thought, "I'd like to bathe in Stephin Merritt's voice." Weird? Maybe. But I think a true Magnetic Fields' fan would understand and agree.