We Like Media's 100 Favorite Movies
by Jason B. Bell, Tommy Burton, Liza Marshall, Noby Nobriga, Sean Sloan, and Rusty W. Spell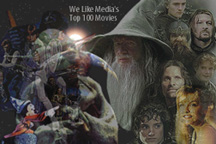 Our assignment was simple: to list our 100 favorite movies. Not what we considered the "best" movies, and certainly not what the universe at large considered the most respectable. We're not the AFI and we're not VH-1. We tried to be as honest as possible, to list those movies we most love, whether they were completely arty or completely candy--as long as we were crazy about them.
There were six of us, and we ranked 100 movies apiece. We mathemetized these lists together, and the following masterlist is what the machine spit back out at us. If you're interested in seeing who's to blame, you may click on our names. If you're interested in seeing how everything ranked and the numeric scores each movie received, you may click on the masterlist.
Jason, Tommy, Liza, Noby, Sean, Rusty, Masterlist.
Now... go off and watch all these. We vouch for every one of them.
---
1. The Lord of the Rings: The Fellowship of the Ring

2. 2001: A Space Odyssey

3. Star Wars

4. The Empire Strikes Back

5. Twin Peaks: Fire Walk With Me

6. Fantasia

7. Heavenly Creatures

8. Raiders of the Lost Ark

9. The Princess Bride

10. This Is Spinal Tap

11. The Graduate

12. Pulp Fiction

13. Bonnie and Clyde

14. Dr. Strangelove or How I Learned To Stop Worrying and Love the Bomb

15. Back to the Future

16. A Hard Day's Night

17. The Last Temptation of Christ

18. The Silence of The Lambs

19. Ferris Bueller's Day Off

20. The Wild Bunch

21. Apocalypse Now

22. The Lord of the Rings: The Two Towers

23. It's a Wonderful Life

24. Office Space

25. The Royal Tenenbaums

26. Magnolia

27. Vertigo

28. Punch-Drunk Love

29. Blade Runner

30. The Godfather

31. 8 1/2

32. Eraserhead

33. Blue Velvet 

34. Mulholland Drive

35. The Last Picture Show

36. The Breakfast Club

37. Ghostbusters

38. The Elephant Man

39. Jaws

40. American Beauty

41. Return of the Jedi

42. Sixteen Candles

43. Rushmore

44. A Clockwork Orange 

45. The Seven Year Itch

46. Better Off Dead

47. Weird Science

48. From Dusk Till Dawn

49. Goldfinger

50. Annie Hall

51. The Straight Story

52. Taxi Driver

53. The Goonies

54. Manhattan

55. Reservoir Dogs

56. Boogie Nights

57. A Christmas Story

58. Wayne's World

59. Monty Python's Life of Brian

60. Amadeus

61. The Shining

62. The Man Who Wasn't There

63. Alien

64. Joe Versus the Volcano

65. Indiana Jones and the Last Crusade

66. Happiness

67. Groundhog Day 

68. Midnight Cowboy

69. Close Encounters of the Third Kind

70. Braveheart 

71. Jackie Brown

72. Casablanca

73. Raging Bull 

74. The Usual Suspects

75. Airplane!

76. Clue

77. The Last American Virgin

78. Dead Man

79. Cowboy Bebop: Knockin' On Heaven's Door

80. The Loved One

81. Spider-Man

82. Dead Poets Society

83. Night of the Comet

84. Citizen Kane

85. Always

86. Army of Darkness

87. The Exorcist

88. Monty Python and the Holy Grail

89. Fight Club

90. Fargo

91. Sunset Boulevard

92. Touch Of Evil

93. Memento

94. The 400 Blows

95. Pee-Wee's Big Adventure

96. Lolita

97. Freddy Got Fingered

98. Dead Calm

99. Sling Blade

100. Hard Eight